Corporate Profile
We are a leading, rapidly growing synthetic biology company that has developed a disruptive DNA synthesis platform to industrialize the engineering of biology. The core of our platform is a proprietary technology that pioneers a new method of manufacturing synthetic DNA by "writing" DNA on a silicon chip.

We are leveraging our unique technology platform to manufacture a broad range of synthetic DNA-based products, including synthetic genes, tools for NGS sample preparation, and antibody libraries for drug discovery and development. Additionally, we believe our platform will enable new opportunities including discovery partnerships for biologic drugs, and will enable new applications such as digital data storage in DNA.
Change
Volume
52 Week High
52 Week Low
Data Provided by Refinitiv. Minimum 15 minutes delayed.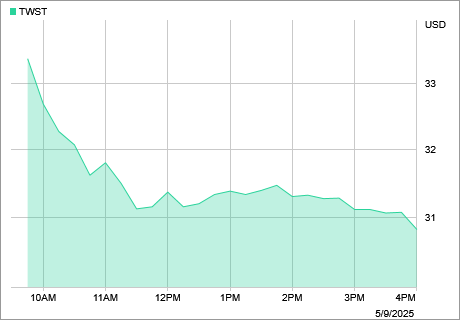 News and Investor Calendar
Nov 28, 2023 at 7:30 AM EST
Nov 17, 2023 at 8:00 AM EST
Sep 27, 2023 at 12:15 PM EDT